Simple flavors that pack a punch!
Ingredients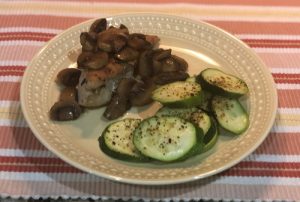 4 chicken breast halves
Salt & pepper to taste
2 Tbls butter
8 oz fresh mushrooms, sliced thick
1/3 cup dry white wine (or water) 
Directions
Preheat oven to 400 degrees F.
Sprinkle each chicken breast with salt & pepper.
Heat 1 Tbls butter in cast iron (or heavy skillet) over medium-high heat. Cook until browned and turn over.
Add mushrooms and increase heat. Stir until mushrooms start to soften.
Place skillet in preheated oven and bake for 18-20 minutes.
Remove chicken from skillet and set aside. Place skillet back on burner over medium-high heat. Juices will start to crust.
Add wine (or water) to skillet and stir. Allow to reduce and stir in remaining butter.
Stir to coat mushrooms.
Plate chicken and top with mushrooms. Serve with green veggie or salad.
Makes 4 servings
Nutrition Facts: (with wine)
Calories          176
Total Fat           8g
Total Carbohydrates  2g
Dietary Fiber       .5g
Protein           20g
Print Recipe: Chicken and Mushroom Skillet