Savory goodness packed in a cup!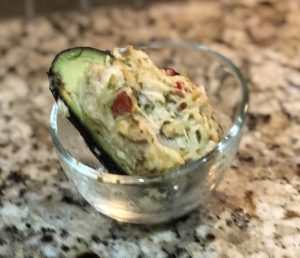 Ingredients
6 oz. chicken breast, cooked & chopped
3 oz. cream cheese
4 cherry tomatoes, quartered
1 clove garlic, minced
¼ tsp onion powder
Salt & pepper to taste
Dash of cayenne pepper
2 avocados, halved & pitted
½ cup parmesan cheese 
Directions
Preheat oven to 375 degrees F. Spray small muffin pan or line with paper cups.
Cut & pit avocados. Scoop a bit from the center to enlarge the cup. Add to bowl with remaining ingredients.
Place avocado halves into muffin pan to stabilize.
Mix ingredients together and divide into avocado halves.
Bake until cheese is melted. Approx. 10-12 minutes.
Makes 4 servings
Nutrition Facts:
Calories           372
Total Fat          30g
Total Carbohydrates 14g
Dietary Fiber       8g
Protein           16g
Note: You can substitute the cherry tomatoes with sundried tomato for a little different taste!  Using light or fat-free cream cheese will also reduce the calories and fat in this dish.
Print Recipe: Chicken Avocado Cups