Light & easy dinner – perfect for a weeknight!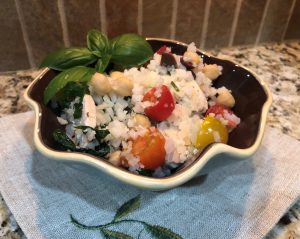 Ingredients:
1 pkg frozen riced cauliflower
6 oz. cooked chicken breast, diced
6 kalamata olives, sliced
6 cherry tomatoes, halved
4 Tbls. Chickpeas, rinsed
1 tsp olive oil
1 tsp lemon juice
3-4 basil leaves, sliced
Directions:
Cook cauliflower per package instructions.
Mix all ingredients together in serving dish and toss to blend oil & lemon juice.
Makes 2 servings
Nutritional Information:
248 Calories
Fat               7.4g
Carbs        20.5g
Fiber           6.3g
Protein     24.5g
Print Recipe: Mediterranean Cauliflower Rice