Today is day 4 of my Jump Start Diet. I did weigh in.  I lost 5 pounds. That's really good.  That's actually a lot better than I thought it would be.  I started at 192 pounds.  That's about the highest I've been for a number of years now.  I struggled over the holidays the last few months.  But I'm getting back on track using this Jump Start Diet. I've lost 5 pounds in 4 days.
I realize it's going to slow down. This is typical of a low-carbohydrate diet. If you get rid of the carbohydrates, insulin levels will fall, and subsequently you'll lose some water weight.  It's still weight.  It's retained water that you have.  Typically after that, the weight loss will slow down.
I encourage people to weigh in routinely, just about daily. The best time to weight yourself is early in the morning. That's your most accurate weight. Typically later in the day you're going to retain some water and it won't be as accurate.  So, if you forget to do it early in the morning just wait until the next day. But I encourage you to weigh daily.  It's a good way to monitor yourself.  It's easy to look back over a couple of days and start thinking, "What did I do differently?" For most of us it's about how much did we drift? If you drift some on your carbohydrates your weight could jump up.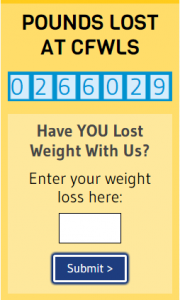 Everyone probably realizes that if you have a bad weekend you notice that weight jumps up significantly and it takes you two more weeks to get that off.  It's a lot of work.  So, if you're weighing yourself daily it's a lot easier to keep track.  Once you've weighed yourself, go to our home page (CFWLS.com) and plug in your numbers.  We're already over ¼ million pounds lost. We're talking about some real pounds there.
Back to the Jump Start Diet.  As I said, I struggled over the last few months. I drifted significantly. Yesterday I talked about the caffeine withdraw. I think I'm over that now. My headache is gone and I feel good really.  I suspected I'd feel a lot more of the carbohydrate withdraws at this point. I'm actually surprised I don't.  I feel pretty decent.  I'm going to go workout, so we'll see how that goes. I might get tired a bit more easily.  Typically once you're through that withdraw with carbohydrate then you're energy level jumps up some more. So hopefully I'm going to be on the upward swing of this not the downward.  I probably won't be updating every day. I encourage you to join us on the Jump Start Diet. I know there are other people out there doing this with me. I won't mention any names but maybe they'll give me permission some time. No matter what this is something we do together. We struggle together and we can also move forward together. We'll talk soon.