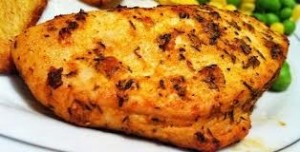 Excellent choice for your next gathering!
Ingredients
8 each boneless skinless chicken breasts
1 pinch salt and pepper
4 tbsp fresh lemon juice
1 tbsp paprika
1 each cooking spray
1 tsp minced garlic
1 tbsp low sodium soy sauce
3/4 cup cooking sherry
6 each scallions
Directions
Pound the chicken breasts to a 1/2-inch thickness, and season with the salt, pepper, 3 tablespoons of lemon juice, and paprika.
Coat a large skillet with nonstick cooking spray. Place over medium heat and cook the chicken breasts on each side until browned, 5 to 7 minutes.
Add the garlic, the remaining 1 tablespoon lemon juice, soy sauce and the sherry to the pan, and cook for 5 minutes.
Sprinkle the green onions into the pan, and cook 3 to 5 minutes more, or until the chicken is done.
Makes 8 servings
Nutrition Facts:
Calories 164.3, Total Fat 1.6g, Total Carbohydrates 6.5g, Dietary Fiber .8g, Protein 26.8g
From dlife.com