A perfect meatless entrée for your busy nights!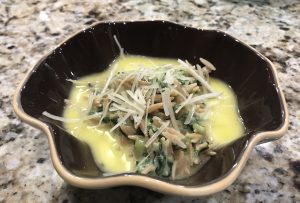 Ingredients
1 tsp olive oil
2 packets of protein orzo
2 cloves garlic, minced
1 lg shallot or 3 green onions, sliced
2 cups chicken broth
½ cup milk
¼ tsp salt
¼ tsp fresh ground pepper
¾ cup Parmesan cheese, grated
2 cups fresh baby spinach
Directions
Heat oil in skillet and add orzo (uncooked). Stir until slightly browned.
Add garlic and shallots and cook until softened.
Add ½ cup chicken broth until absorbed, then add another ½ cup of broth. Continue until all the broth is absorbed.
Add ½ cup milk and cook until almost absorbed.
Toss in the spinach, salt & pepper. Stir until wilted.
Add ½ cup Parmesan and allow to start to melt.
Divide into bowls and top with remaining cheese.
Makes 2 servings
Nutrition Facts:
Calories                                 355
Total Fat                                 10g
Total Carbohydrates               13g
Dietary Fiber                           3g
Protein                                   41g
Print Recipe: parmesan garlic protein orzo