This is guaranteed to become one of your favorites!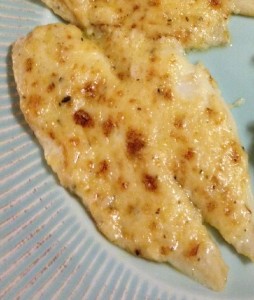 Ingredients
4 large tilapia fillets – about 1 lb.
2 Tbls seasoned-salt
Cooking spray
1/2 cup grated Parmesan cheese
2 Tbls butter
1 1/2 tablespoons mayonnaise
2 tablespoons lemon juice
2 teaspoons grated lemon zest
1/8 teaspoon dried basil
1/8 teaspoon ground black pepper
1/8 teaspoon onion powder
1/8 teaspoon celery salt
Directions
Preheat the oven's broiler and set the oven rack about 6 inches from the heat source. Line a broiler pan with aluminum foil. Spray the broiler pan's rack with olive oil cooking spray.
Sprinkle tilapia with seasoning and arrange on the prepared broiler rack.
Mix the Parmesan cheese, butter-margarine blend, fat-free mayonnaise, lemon juice, lemon zest, basil, black pepper, onion powder, and celery salt together in a bowl and set aside.
Cook the fillets under the preheated broiler until fish is barely opaque, 2 to 3 minutes per side. Spread the Parmesan cheese blend over the fish fillets, return to oven, and continue cooking until the topping is golden brown and the fish flakes easily, 3 to 5 more minutes.
Nutritional Information
Servings Per Recipe: 4
Amount Per Serving
Calories: 275
Effective Carbs: 2.5g
Protein: 27g
Print Recipe  Parmesan Lemon Broiled Tilapia
From Allrecipes.com