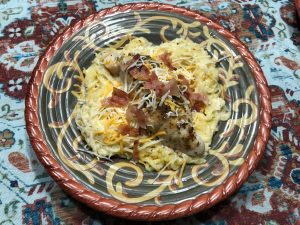 Comfort food goodness but good for you!
Ingredients
4 small chicken breast halves (3-4 oz ea)
4 slices bacon, cooked crisp & chopped
1 packet Ranch dressing mix
4 oz. light cream cheese
½ cup shredded cheddar
1 large spaghetti squash
Directions
1. Preheat the oven to 350 degrees.
2. Line baking sheet with foil and spray with cooking spray.
3. Prick skin of spaghetti squash several times and microwave on high for 5-6 minutes.
4. Slice (crossways) squash into 1" rings and scoop away seeds & center pulp.
5. Bake squash for 30-40 minutes or until flesh pulls into strands easily.
6. Place chicken in separate dish and bake for 25-30 minutes or until done.
7. Mix together cream cheese & dressing mix.
8. Remove squash from oven and separate strands from outer shell. Spoon into bowl with cream cheese mixture and toss until coated.
9. Plate squash mixture and top with chicken breast.
10. Garnish with bacon & shredded cheddar. Enjoy!
Makes 4 servings
Nutrition Facts:
Calories 375
Total Fat 22g
Total Carbohydrates 11.5g
Dietary Fiber 4g
Protein 33g
Print Recipe: Spaghetti Squash with Cheesy Ranch Chicken