Using riced cauliflower in your favorite soup recipes brings down the carbs while maintaining the balance of textures!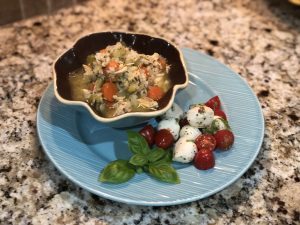 Ingredients
4 cups chicken broth
2 large chicken breast halves, cooked and diced
1 small onion, diced
1 cup chopped or shredded carrots
4 stalks celery, sliced
2 cloves garlic, minced
2 Tbls dried tarragon
1 tsp dried basil
½ tsp fresh ground pepper
1 package frozen riced cauliflower
Directions
1. Cook your chicken breasts in the broth until done. Remove from broth and dice.
2. Return chicken to pot and add everything else but the riced cauliflower.
3. Simmer until carrots are tender and add frozen riced cauliflower. (do not cook first)
4. Simmer until tender & serve!
Makes 6 servings
Nutrition Facts:
Calories 156
Total Fat 4.6g
Total Carbohydrates 9.7g
Dietary Fiber 3.4g
Protein 19.2g
Print Recipe: Tarragon Chicken Soup