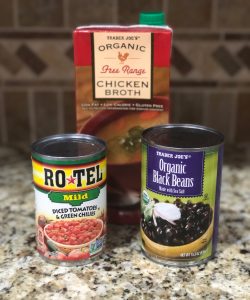 A quick and easy soup with staples from your pantry!
Ingredients
2 cans black beans, drained & rinsed
1 can Rotel tomatoes (any variety)
2 cups chicken broth
1 tsp cumin
½ tsp cilantro
4 Tbls light sour cream
1 green onion, sliced
Directions
1. Drain and rinse beans. Add to soup pot.
2. Add tomatoes and chicken broth.
3. Stir in seasonings and heat over medium-high heat until hot.
4. Divide into bowls and top with 1 Tablespoon sour cream and sprinkle with green onions.
Makes 4 servings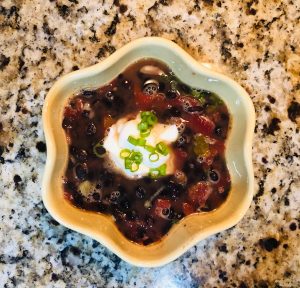 Nutrition Facts:
Calories 152
Total Fat 4g
Total Carbohydrates 20g
Dietary Fiber 6g
Protein 9g
Print Recipe: Spicy Black Bean Soup