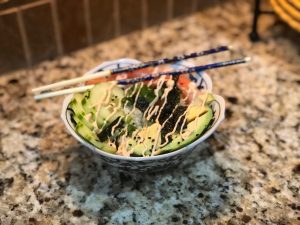 A colorful dish that's filled with flavors!
Ingredients
1 lb cooked shrimp, chilled
1 avocado, sliced
½ cucumber, sliced thin
1 green onion, sliced
4-6 sheets nori, sliced into ribbons
Black or toasted sesame seeds to sprinkle
1 package frozen riced cauliflower
2 Tbls rice vinegar
¼ cup mayo
2-3 tsp Sriracha sauce
Directions
1. Thaw shrimp and chill.
2. Heat riced cauliflower to package instructions. Stir in vinegar & mix well. Divide into bowls and allow to cool.
3. Mix mayo with Sriracha sauce and spoon into plastic bag. Seal & cut small tip off one side to drizzle.
4. Arrange shrimp, avocado slices, cucumber slices, green onion & nori on top of riced cauliflower.
5. Drizzle spicy mayo over entire bowl and sprinkle with black sesame seeds.
Makes 4 servings
Nutrition Facts:
Calories 358
Total Fat 18g
Total Carbohydrates 19g
Dietary Fiber 10g
Protein 31g
Print Recipe: Low Carb Shrimp Sushi Bowl