These tasty little burgers make a great appetizer or small plate meal!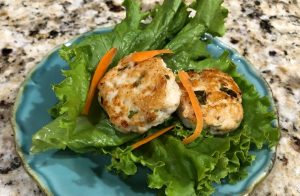 Ingredients
1 lb ground turkey
1 tsp lemon zest
1 tsp lime zest
2 cloves garlic, minced
2 green onions, sliced thin
1 Tbls olive oil
1 head Bibb or Butter lettuce
Slivered carrot or herbs for garnish
Directions
1. Mix ground turkey, lemon and lime zest, garlic and onions together.
2. Shape into small 1 ½-2" patties.
3. Heat olive oil in heavy skillet over medium high heat. Place patties in hot oil and cook about 2 minutes or until browned. Flip over and repeat.
4. Serve on lettuce leaves.
5. I generally have small bowls of Sriracha sauce or mustard to add if desired.
Makes 16 sliders
Nutrition Facts:
Calories 60
Total Fat 4g
Total Carbohydrates 1g
Dietary Fiber 0g
Protein 8g
Print Recipe: Turkey Slider Lettuce Wraps