When you're looking for a quick and easy weeknight meal!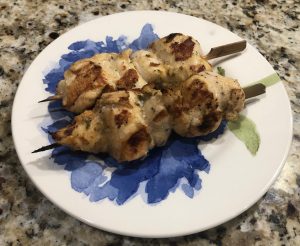 Ingredients
1 lb chicken tenders (about 8)
1 envelope dry Ranch dressing mix
1 Tbls olive oil
1 Tbls white wine vinegar
8 6" skewers
Directions
1. Pour dressing mix, olive oil & vinegar into a 1 quart resealable bag. Mix together well.
2. Add chicken tenders and seal bag. Shake to coat and refrigerate for 1-2 hours.
3. Thread 2 tenders onto each skewer.
4. Grill over medium heat (turning once) until done.
Makes 4 servings
Nutrition Facts:
Calories 180
Total Fat 6.3g
Total Carbohydrates 1g
Dietary Fiber 0g
Protein 24g
Print Recipe: Easy Ranch Chicken Kabobs