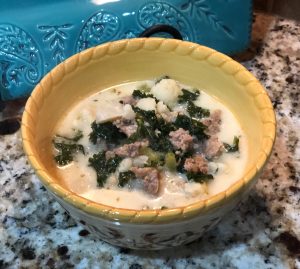 Every bit of the flavor & textures without the carbs!
Ingredients
1 lb Italian turkey sausage (I used spicy)
1 medium onion, diced
1 rib celery, sliced
1 small green pepper, diced
3 cloves garlic, minced
16 oz package frozen cauliflower florets (or 1 lb head fresh)
6 cups chicken broth
6 cups kale, torn into bite-sized bits
½ cup half & half
Salt & pepper
Directions
1. Brown ground meat and add onions, celery, garlic & peppers. Saute until veggies are softened.
2. Add cauliflower & chicken broth and bring to boil. Reduce heat and simmer for 15-20 minutes or until cauliflower is tender.
3. Add kale and cook until tender.
4. Stir in half & half.
5. Serve hot!
Makes 4-6 servings
Nutrition Facts: (for 6 servings)
Calories 205
Total Fat 5.5g
Total Carbohydrates 16g
Dietary Fiber 3g
Protein 24g
Print Recipe: Low Carb Zuppa Toscana