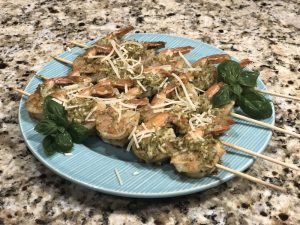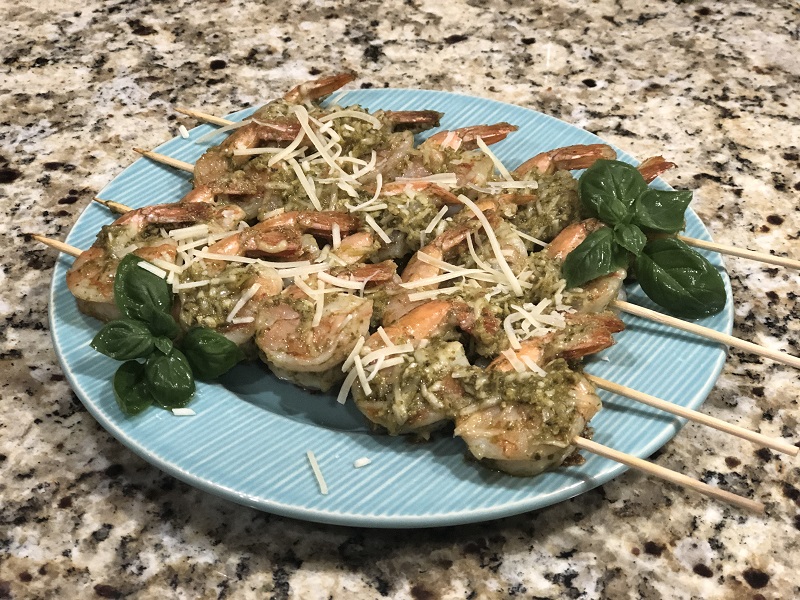 Pair shrimp kabobs with a fresh garden salad and a slice of melon!
Ingredients
1 lb jumbo shrimp, peeled and deveined
1 cup fresh basil leaves, chopped
1 clove garlic
¼ cup shredded parmesan cheese
3 Tbls olive oil
Salt & pepper
Directions
Toss basil leaves, garlic, parmesan, olive oil and seasonings together in the bowl of a food processor and pulse until blended smooth.
Combine raw shrimp with pesto and allow to marinate for an hour. (I don't always have an hour and it still tastes great)
Soak 4 wooden skewers in water for 20-30 minutes. Thread shrimp onto skewers and place on metal outdoor grill pan.
Cook over medium-hot grill until shrimp turn pink. Remove from heat immediately to avoid over-cooking. 6-8 minutes should be enough.
Garnish with fresh basil & extra shredded parmesan if desired.
Makes 4 servings
Nutrition Facts:
Calories         220
Total Fat          13g
Total Carbohydrates  1g
Dietary Fiber       0g
Protein           25g
Print Recipe: Grilled Pesto Shrimp Kabobs