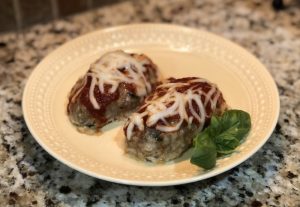 All of the flavors of Chicken Parmesan without the carbs!
Ingredients
1 lb ground turkey (or chicken)
1 cup grated Parmesan cheese
3 cloves garlic, minced
½ small onion, minced
1 tsp dried Italian seasoning
2 Tbls fresh basil, chopped
Salt & Pepper to taste
1 egg, beaten
1 cup marinara sauce
½ cup shredded mozzarella cheese for topping
Directions
Preheat oven to 350 degrees F. Line baking sheet with foil.
Mix together ground turkey, Parmesan, garlic, onions, Italian seasoning, basil, salt & pepper and egg.
Divide into 4 equal parts and shape into mini loaves.
Bake for 18-20 minutes or until cooked through.
Remove from oven and spoon 2-3 Tbls of marinara sauce over each loaf and sprinkle with mozzarella cheese.
Return pan to the oven and place under the broiler until cheese is browned & bubbly.
Makes 4 servings
Nutrition Facts:
Calories         305
Total Fat          16g
Total Carbohydrates  11g
Dietary Fiber       2g
Protein           28g
Print Recipe: Parmesan Meatloaf Minis