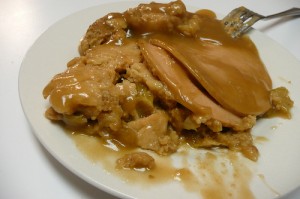 Leftover Turkey?  No Problem! Our turkey and dressing recipe is quick & easy~
Ingredients:
2 packets Protein Cream of Chicken Soup Mix
6 oz. turkey breast, cooked and sliced
1 slice high fiber wheat bread
1 tbls. minced onion
Dash of ground sage
1/2 cup hot water
Directions:
Toast bread, then crumble.
Dilute 1 packet of soup with 1/4 cup water. Season with a dash of sage and stir in onions. Combine with bread crumbs and place in bottom of oven safe dish, layer turkey on top. Mix remaining soup with 1/4 cup water, adding more water if necessary, and pour over turkey. Microwave or bake until hot.
Serves 2
Nutrition Facts: (per serving)
Calories 197
Fat 3g
Carbohydrates 4g
Protein 39g