Pick up some Proti pasta and satisfy your cravings for pasta!
Ingredients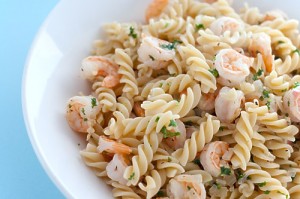 1 pound shrimp, peeled and deveined
¼ cup fat-free half and half
½ tsp ground cloves
¼ tsp ground cardamom
1 tsp ground cumin
½ cup slivered almonds
2 Tbls fresh cilantro, finely chopped
½ cup tomato sauce
2 packets Proti-Pasta (about 2 cups)
Directions
Empty contents of packets of Proti-Pasta into pot of boiling water. Cook for 12 minutes or until desired texture is achieved. Drain.
In medium bowl, mix all of the remaining ingredients except tomato sauce and 1 tbls of cilantro. Cover and refrigerate 30 minutes to blend flavors.
Spray 10 inch skillet with cooking spray, heat over medium heat. Add shrimp mixture, cook each side of shrimp 30-60 seconds or until partially pink.
Stir in tomato sauce. Cover cook 3-4 minutes, turning shrimp occasionally, until shrimp are pink. Toss with pasta. Serve garnished with remaining 1 tbls cilantro.
Makes 3 servings
Nutrition Facts: Calories 376, Total Fat 12.6g, Total Carbohydrates 16.4g, Protein 48.7g