This main course is a special treat for guests and family alike!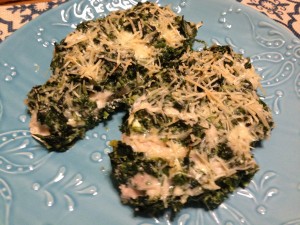 Ingredients
4 chicken breast halves
3-4 oz herbed goat cheese or cream cheese
10 oz package of frozen chopped spinach
Salt & pepper to taste
2 tsp paprika
½ cup shredded parmesan cheese
Directions
Thaw spinach. Press out excess water and put in mixing bowl.
Cut slits across the top of each chicken breast about 1/2" apart and 2/3 of the way through.
Place chicken breasts into glass baking dish that has been sprayed with cooking spray.
Mix herbed cheese, spinach, salt & pepper and paprika together in bowl until well blended.
Stuff each slit with a spoonful of spinach mixture.
Sprinkle with parmesan cheese.
Bake in 350 degree oven for 25-30 minutes or until browned and bubbly.
Makes 4 servings
Nutrition Facts:
Calories 300
Total Fat 13g
Total Carbohydrates 2.5g
Dietary Fiber 2g
Protein 43g
Print Recipe  Spinach and Herbed Cheese Chicken