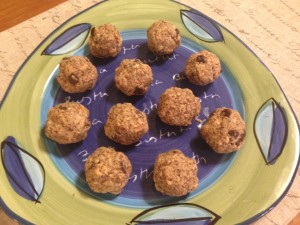 Enjoy your cookie dough again!
Ingredients
2 scoops vanilla protein powder (Leaner Living)
½ cup almond meal
1/4 tsp salt
½ cup almond or peanut butter
1 tsp vanilla
¼ cup mini chocolate chips
1 Tbls almond milk
Directions
Combine dry ingredients in a bowl. Stir to blend.
Add canned almond butter & vanilla. Stir to blend.
Add chocolate chips and almond milk. Stir to blend
Form into small (walnut-sized) balls by rolling in palms of your hands.
Place on plate or tray and chill for 30 minutes until more firm.
Enjoy!
Makes 12 balls
Nutrition Facts: (each ball)
Calories 110
Total Fat 9g
Total Carbohydrates 6.5g
Dietary Fiber 1.5g
Protein 5g
Print Recipe: Cookie Dough Protein Balls