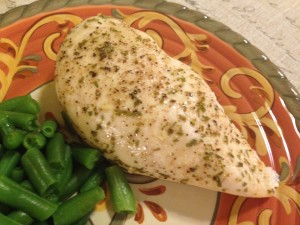 Only 5 ingredients!
Ingredients
4 boneless-skinless chicken breast halves
¼ cup butter
1 tsp salt
¼ tsp pepper
½ tsp tarragon
Directions
Preheat oven to 350 degrees.
Melt butter and stir together with salt & pepper.
Arrange chicken in baking dish.
Brush each piece with butter until thoroughly coated. Pour excess over the chicken.
Sprinkle with tarragon.
Bake 30-35 minutes or until juices run clear.
Serves 4
Nutrition Facts: (each ball)
Calories 227
Total Fat 14g
Total Carbohydrates 0g
Dietary Fiber 0g
Protein 34g
Print Recipe: Sensational Simple Baked Chicken