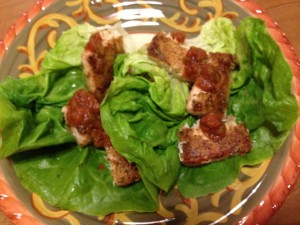 Ingredients
1 tsp garlic powder
1 tsp oregano
½ tsp cumin
1 tsp cilantro
½ tsp salt
¼ tsp chipotle or chili powder
1 lb white fish (rockfish or mahi mahi)
1 lime
2 cups shredded cabbage
¼ cup green onions
2 heads Boston lettuce
Salsa or avocado for garnish – optional
Directions
Combine dry spices in bowl.
Clean & separate lettuce leaves. Dry by rolling in paper towel. Set aside.
Heat oil in skillet over medium heat.
Coat each piece of fish in spice mixture and add to skillet.
Pan-fry fish about 4-5 minutes on each side or until flaky.
Spread small amounts of cabbage in each lettuce cup.
Break up larger pieces of fish and spoon into lettuce cups.
Top with green onion, salsa or avocado and squeeze lime over each.
Makes 2 servings
Nutrition Facts: (without avocado)
Calories 190
Total Fat5g
Total Carbohydrates 2g
Dietary Fiber 1g
Protein 32g
Print Recipe:   Fish Taco Lettuce Cups