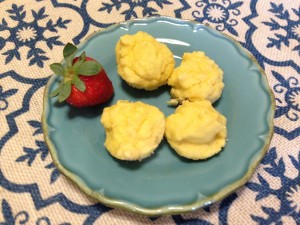 This tasty little low carb muffin will have you fooled – it's low cal too!
Ingredients
1 large sweet lemon (zest & sections)
3 eggs
1 cup finely ground almond flour
½ tsp baking powder
4 Tbls sugar substitute for baking
½ tsp vanilla
Pinch of salt
1 packet of Tangy Lemon pudding & shake mix (optional)
Directions
Preheat an oven to 350F.
Spray non-stick mini muffin tin or line each with paper/foil cups.
Remove zest from lemon and set aside. Peel lemon and separate sections. Remove any seeds from the sections.
Put lemon sections in food processor bowl and pulse for several seconds until pureed.
Prepare pudding according to directions if using the protein pudding.
Add remaining ingredients and blend until smooth.
Stir in lemon zest.
Spoon batter into each cup.
Bake for 10-12 minutes.
Makes 24 mini muffins
Nutrition Facts:  (per muffin)            *values with pudding mix
Calories 35      *40
Total Fat 3g            *3g
Total Carbohydrates 1.5g              *2g
Dietary Fiber .5g               *.6g
Protein 2g                *2.4g
Print Recipe:  Lemon Mini Muffins
Adapted from DitchTheCarbs.com