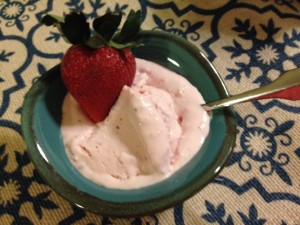 A low-carb version of your childhood favorite!
Ingredients
2 cups fresh strawberries, cleaned and sliced
1 tsp lemon juice
½ cup Splenda or granular artificial sweetener
¼ tsp salt
1 tsp vanilla
8 oz cream cheese, softened
1 cup half & half
1 cup heavy cream
1 Tbls vodka (keeps it creamier)
Directions
Combine all ingredients in blender and blend until smooth.
Pour into a freezer-safe container or zip-top freezer bag and place in freezer.
Stir (or squeeze) ice cream every 60 minutes for several hours. This will help it reduce crystalizing.
Serve with fresh berries.
Makes 8 servings
Nutrition Facts:  per 1/2 cup serving

Calories 185
Total Fat 16g
Effective Carbohydrates 9g
Protein 4g
Print Recipe    Low Carb Strawberry Ice Cream