A new twist on a traditional side dish!
Ingredients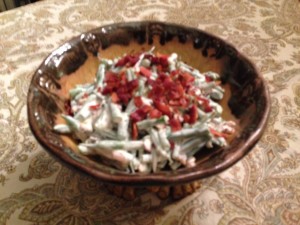 4 cups of tender green beans, cut into 1" pieces
½ cup crisp bacon, chopped (about 4 slices)
1 Tbls mayonnaise
1 Tbls plain greek yogurt
1 Tbls lime or grapefruit juice
1 Tbls fresh dill
2 green onions, sliced thin – including tops
½ cup chopped walnuts, toasted
Salt & pepper to taste
Directions
Slice beans and blanche in boiling water 2 minutes, remove and chill in ice water.
Cook bacon until crisp, remove from pan and allow to cool. Chop into small pieces.
Mix together mayo, yogurt, juice, dill and onions. Allow flavors to meld.
Stir half of bacon into sauce. Add salt and pepper to taste.
Toast chopped walnuts over medium heat in same pan used to cook bacon. Remove from pan and allow to cool.
Stir beans into sauce and add toasted walnuts. Top with remaining bacon and serve immediately.
Makes 4 servings
Nutrition Facts:
Calories 81
Total Fat 4g
Total Carbohydrates 9g
Dietary Fiber 5g
Protein 5.6g
Print Recipe Green Bean and Bacon Slaw
Adapted from Ryan Scott