Moist & delicious and ready in minutes!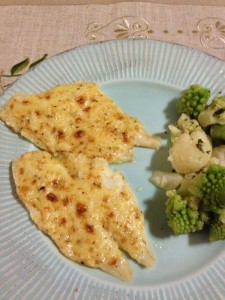 Ingredients
¼ cup shredded parmesan cheese
2-3 Tbls. mayo
2 tsp. lemon juice
¼ tsp. basil
¼ tsp. pepper
1/8 tsp. onion powder
1/8 tsp. celery salt
½ lb. flounder fillets
Directions
Spray baking sheet with cooking spray.
Preheat broiler to low setting.
Rinse fillets and pat dry.
Place fillets on baking sheet.
Mix remaining ingredients in small bowl.
Place baking sheet on top rack under broiler and watch closely.
Broil fillets for 3-4 minutes.
Remove baking sheet from oven and turn fillets.
Top each fillet with equal parts of cheese mixture.
Place back under broiler and allow cheese mixture to bubble and brown. Approx 2-3 minutes.
Serve immediately.
Makes 2 servings (recipe is easily multiplied)
Nutrition Facts:
Calories 260
Total Carbohydrates 2g
Dietary Fiber 0g
Protein 20g