It will quickly become one of your favorite recipes – and so easy!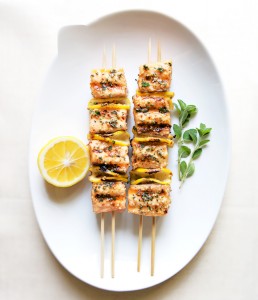 Ingredients
2 tablespoons chopped fresh oregano
2 teaspoons sesame seeds
1 teaspoon ground cumin
1 teaspoon kosher salt
1/4 teaspoon crushed red pepper flakes
1 1/2 pounds skinless salmon fillet (preferably wild), cut into 1-inch pieces
2 lemons, very thinly sliced into rounds
2 tablespoons olive oil
Directions
Soak wooden skewers for 1 hour.
Prepare grill for medium heat. Mix oregano, sesame seeds, cumin, salt, and red pepper flakes in a small bowl to combine; set spice mixture aside.
Beginning and ending with salmon, thread salmon and folded lemon slices onto 12 pairs of parallel skewers to make 12 kebabs total. Brush with oil and season with reserved spice mixture.
Grill, turning occasionally, until fish is opaque throughout, 5–8 minutes.
Makes 6 servings
Nutrition Facts:
Calories 260
Total Fat 15g
Total Carbohydrates 2g
Dietary Fiber .6g
Protein 30g
Adapted from bonappetit.com